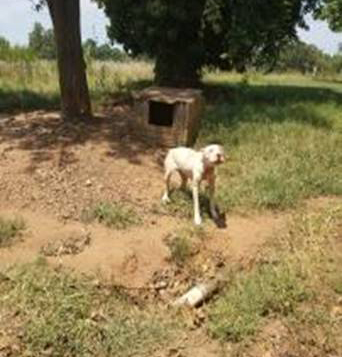 "I hate to do this, but I have an urgent dog for you to consider…" is how the email started. "She's around eight years old and has spent her entire life on a chain. The girls and officers at the shelter have had to endure seeing this dog out on a chain for years and years, and just finally a few weeks ago were able to get the owner to surrender Belinda. Belinda is completely behaviorally perfect; she has medical that this shelter cannot afford. She will need to have a mass removed." And so began Belinda's journey from rural western North Carolina to Pets Alive.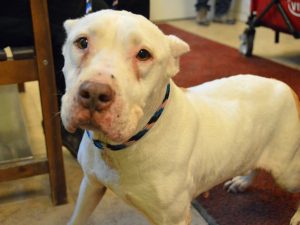 Fatty tissue or cancer? Belinda will get a full workup by our vet, Catskill Veterinary Services, PLLC, next week to put a medical game plan into place. Join us in fighting for Belinda's life and thanking our North Carolina rescue partners for reaching out and fighting for her and all the homeless pets like her.
Then there was the call from Best Friends Animal Society. Help was needed from their Northern Network Partners – of which Pets Alive is a member –  to help one of their Network Partners in Florida. The shelter is doing everything it can to improve its live release rate (currently they have one of the worst in Florida and the country).
Of course, we said yes! Please give a big welcome to the Florida Four –  Vern, Victor, Vincent, and Veronica to the Pets Alive family. They are all beyond sweet and loving, and once they are spayed and neutered, they will be up for adoption. We know they will find loving homes quickly.


Interested in adopting one of the Florida Four felines? Get your application in now!
A total of five local NY rescues and shelters came together and, thanks to Best Friends Animal Society's networking of partners and transport, many lives were saved. The Florida Four and all their felines friends who made the long journey north will soon get a fresh start on life with families of their own.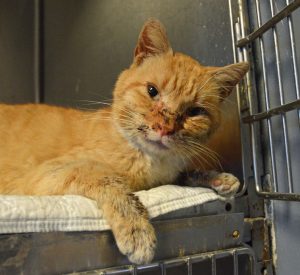 We also welcomed Toothless Ace this week. His journey wasn't quite as long as Belinda's or the Florida Four; he just had to make a quick trip from Animal Care Centers of NYC. Toothless Ace is just that: toothless! This head-butting, purr machine was found emaciated in Brooklyn. Toothless is estimated to be around seven years old and he has tested positive for FIV (Feline Immunodeficiency Virus), but that won't slow him down! We know once we fatten him up, he will be a fantastic addition to someone's family. Could it be you?
Working together, pooling resources, communicating and asking for help is how we save more lives. Join us, help us and be part of these life-saving moments.

Prefer to send a check? Mail it Pets Alive, 363 Derby Road, Middletown, NY 10940.
If you'd like to become a Monthly Sponsor, you can donate a certain amount each month as a recurring donation – and save lives like Toothless Ace, the Florida Four and Belinda all year round!  Monthly Sponsorships start at $5.00 a month – and up.