Financial Assistance for Unexpected Medical Expenses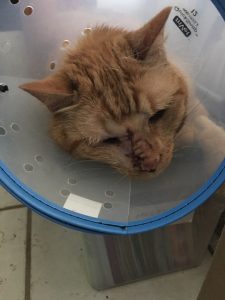 Need help paying for unexpected medical expenses for your pet? Check out these resources that help pet owners fund these expenses.
Each of these organizations provides financial assistance to pet owners in need. They are independent and have their own set of rules and guidelines; therefore, you will have to investigate each one separately to determine if you qualify for assistance:
Red Rover – https://redrover.org/resource/help/
Dogs and Cats
The applicant must be seeking assistance for one animal with a life-threatening injury or illness that requires urgent and specific treatment.
Must have a diagnosis and treatment plan from a veterinarian. Red Rover cannot pay for office exams or diagnostic testing.
Treatment must have a good or favorable outcome.
Proof of income must be provided upon request.
The animal must be spayed or neutered.
The applicant must attempt to find funding through their own means, personal contacts, and other assistance programs.
Brown Dog Foundation – https://www.browndogfoundation.org/apply2
Brown Dog Foundation helps families who find themselves in a temporary financial crisis at the same time their pet requires life-saving treatment or life-sustaining medications.
Dogs Only
Proof of the hardship you claim
Social Security Statement for the pet-owner
Proof of Income
Magic Bullet Fund – https://themagicbulletfund.org/apply/
Dogs and cats – Cancer treatment
You are the pet's primary caretaker and owner and the person who pays for the pet's medical care
A veterinarian has diagnosed your pet with cancer (we DO accept applications when a mass must be removed whether it is cancerous or not, or when it cannot be diagnosed without surgery)
Your pet has been seen by the vet who will provide cancer treatment
You gave that vet permission to speak to Magic Bullet Fund about your pet
 Land of Pure Gold –  http://grants.landofpuregold.com/
Working Dogs only
Applicants must be active, full time working dogs at the time of their cancer diagnosis, in the areas, in the areas of assistance, detection, search and rescue, enforcement, military work or animal assisted therapy. Must be certified and professionally trained
Emotional support dogs, comfort dogs, and therapy dogs are not eligible
Dogs on Deployment – https://www.dogsondeployment.org/petchit_register
The Rich Setzer Memorial Fund is a financial assistance program that aims to provide financial aid to military and veteran members who are facing financial difficulty regarding their pets' care.
Active duty military personnel, generally E-6 and/or below and on single income.
Reservist military personnel, generally E-6 and below and/or on single income.
National Guard or Coast Guard personnel, generally E-6 and/or below and on single income.
Honorably Discharged Veterans with a valid DD-214 with at least 2 years of active duty service.
First responders, to include fire, police, and health care workers negatively financially impacted by COVID-19 for pet emergency treatment or care.
Zeus Oncology Fund – https://zeusoncologyfund.org/apply–for–funding/
Dogs only
Must be spayed or neutered
For cancer treatment and surgery only
Live like Roo – https://livelikeroo.formstack.com/forms/apply_for_help
Dogs only
Pet must have a confirmed cancer diagnosis.
Pay for cancer treatments, biopsies and any kind of cancer-preventative
Bow Wow Buddies – https://www.bowwowbuddies.com/faqs/
Dogs only
Grants may cover necessary medical treatment for the dog for a one-time scenario.
Hope Mending Hearts – http://www.hopemendinghearts.net/grant–process/
Be seeking assistance for one animal in need of urgent medical care.
Must have a veterinary diagnosis, prognosis and treatment plan.
Pet: Have a life-threatening injury or illness that requires urgent and specific treatment.
Pet: Have a favorable prognosis.
Be spayed or neutered (if the animal is not already spayed/neutered, please include plans for having this done when submitting the application).
Oscar Newman – https://oscarnewman.com/pages/violets–friends–applicant–pre–requisites
Dogs and Cats
Applicant must have provided your animal with prompt medical care when the need was urgent or critical
Non-emergency procedures/medical care
Pet Assistance Inc – https://www.petassistanceinc.org/financialaid
Dogs and Cats
Veterinary care subsidies are for urgent or life-threatening emergencies only ✓ PAi cannot financially help with new or recently acquired pets.
Dylan's Hearts – https://www.dylanshearts.com/Animal–Medical–Bills–Eligibility.html
Dogs and Cats
Applicants Are Only Accepted through the Attending Veterinarian
Must Be Seeking Assistance for One Animal in Need of Urgent Medical Care
Have a Life Threatening or Critical Injury or Illness That Requires a Specific Treatment
Must Have a Favorable Prognosis
*Dylan's Hearts does not fund for on-going or chronic issues or medicine that requires continual treatment.
Frankie Friends – https://www.frankiesfriends.org/national–frankies–friends–fund
Dogs and Cats
Frankie's Friends Fund provides financial assistance grants to family owned pets in need of lifesaving emergency or specialty veterinary care whose caregivers cannot afford the full cost of treatment.
PetFund – https://www.thepetfund.com/for–pet–owners/the–pet–fund–application
Dogs and Cats
Must be non-basic and non-urgent care
For the Love of Alex – https://www.fortheloveofalex.org/help–my–pet
Must be spayed or neutered
Emergency situations only
Poodle Angels – https://poodleangels.com/apply–for–poodle–angels–funding
Poodles only
Funds to help pay for veterinary bills paid directly to licensed veterinarians for individuals and families that cannot otherwise afford the appropriate veterinary care.
Emergency and Non-emergency situations
Waggle – https://waggle.org/who–we–are/our–services/
Helps pet owners create a "go fund me" account for their pet in need of medical needs. Waggle's the first and only pet-dedicated crowdfunding platform devoted to helping pets in medical crisis.
No Guarantees. Pets Alive Inc. makes no guarantee that money will be awarded by any of the organizations listed.