Our hearts are broken in half. While we knew our time would be short with Annalise, we always, maybe foolishly, believe we will be able to fix them, even when they come in broken at an advanced age.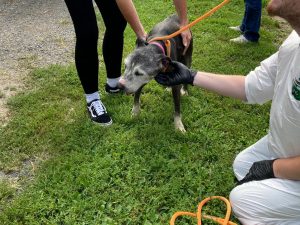 On Monday, August 30, seniors Annalise and her buddy Sasha, were two of 25 animals we rescued from the wrath of Hurricane Ida. Annalise was in bad shape when she came off the transport van and we brought her to our veterinarian, Catskill Veterinary Services, PLLC. 
We never give up without a fight, but our fight for Annalise is now over. Now is the time for spoiling, unconditional love, a soft bed, hamburgers, and reuniting her with her buddy Sasha.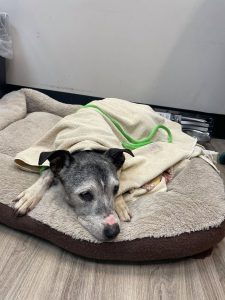 After a week at our veterinarian, we were devastated by the news that Annalise most likely has brain cancer or a brain tumor. There is nothing more for us to do but shower her with love in her last few remaining days, only days, a crushing blow to all of us as she is one of the sweetest, special souls we have ever met.  
So special that an hour before we were dealt the crushing blow about her only having days left, we received an email from the Director of Cara's House, the sending shelter in Louisiana. In the middle of nonstop disaster animal response, transports, and life-saving work in an area ravaged by Hurricane Ida, the Director took precious time to reach out to us. "I'm Kassie, the Director of Cara's House where Annalise & Sasha came from. First of all, thank you so much for giving our old girls a second chance. I wanted to reach out and give a little background on them. We received a call from our Animal Control Officers. A lady had been deceased in her home for a week prior to the phone call. Upon arrival, I walked to the back fence to find Annalise struggling to slosh through the mud to get to me. I had the fire department cut a hole in the fence so I could get her out. I made my way to the back patio where I found Sasha sound asleep at the back door. Both girls had been outside for a week with no food and whatever little water they could find."
Our hearts broke even more for what these senior girls have endured and to know that Annalise only has days remaining. After many tears were shed, we knew we had to get the girls back together for Annalise's final days. We couldn't fix her body, but we could bring the girls together for a final goodbye. It is the least we could do for two senior girls who have endured so much.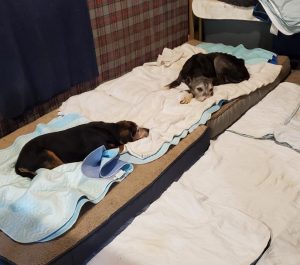 Thanks to our fantastic volunteer, Joyce, that has happened. The girls have been reunited! Joyce has what can only be called the perfect space for them, in her downstairs, no stairs, a short, easy walk to a fenced-in backyard, soft comfy beds, and around-the-clock care, attention, and unconditional love. There are no words to express how grateful we all are to Joyce for opening up her home and heart.
This is the hard part, this is the heartbreak of rescue, and even though we are shattered, we would do it all over again, and we will do it again. We may have been defeated this time, but we will always hope that the next time a broken senior pet comes to us, we will be able to beat the odds and put them back together. We are grateful Joyce opened her home to the girls. We are grateful to Cara's House for rescuing them. We are grateful to Southern Paws for transporting them to us. We are grateful to our vet team at Catskill Veterinary Services, LLC for treating Annalise like one of their own this past week.
To Annalise and Sasha, we are sorry we can't fix your bodies, but know that even though we have only known you for a week, you are part of the Pets Alive family, you are loved unconditionally and when it is your time, you will take a piece of each and every one of us with you.

To all who have donated to help Annalise, Sasha, and the other animals that were on the transport van, thank you for giving them a chance.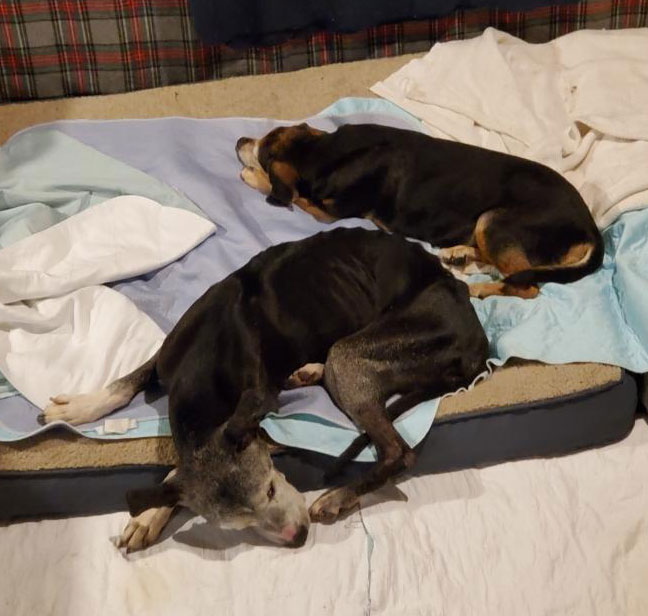 This is the heartbreak of rescue.