Pets Alive Working Cat Network Program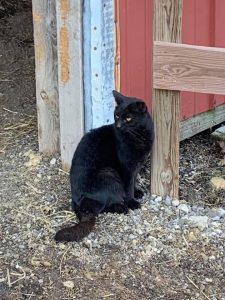 Pets Alive does not believe in relocating feral or free-roaming community cats. These cats are best left in their environment and part of a TNVR Program (Trap- Neuter-Vaccinate-Return). However, in extreme cases when cats are in imminent danger, and there is absolutely no other resource for a live outcome, we will try and assist through our working cat network program. Our goal is to match farms, businesses, individuals, warehouses, and other safe areas for cats to roam with cats who have no other option than relocation while ensuring they are provided with shelter, food, and water.
About Working Cats
Commonly known as a "barn cat," a working cat is usually quite independent. Often, their behaviors are not suited for a traditional adoptive home. They lack socialization and prefer little to no human contact.
Working cats offer an environmentally safe alternative to poisonous pest controls. While most are natural hunters, no one cannot guarantee they are good hunters that will catch rodents, but we do know they are pretty good at making a difference in rodent control in most situations.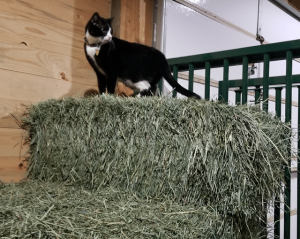 Working cats can be placed in barns, greenhouses, plant nurseries, stables, warehouses, stores, or any business looking for inexpensive and effective rodent control. It needs to be a safe, dry, warm location with a caregiver that provides food, water, and proper care. These cats cannot survive on mousing alone. Adequate food and fresh water must be provided daily.
Two working cats are better than one! Some cats prefer a one-cat home, but cats like the company of other cats for the most part. We have found that an "only cat" becomes a "lonely cat" when it is relocated to a new environment and may leave in search of another place to "hang its hat." We want the cat to stay in its new home, out of harm's way, with people that care about cats. The move will be less traumatic, and adjustment to their new home is easier if they have the security of a trusted companion.
Are you interested in adding a working cat to your farm, business, garage, warehouse, workshop, etc.? Please fill out our online application below. 
Ideal Locations for Working Cats
Warehouses
Junkyards
Auto repair shops
Woodworking shops
Wineries
Stables
Grain handling facilities
Greenhouses / Nurseries / Garden Centers
Churches
Storage facilities
Confinement area at new home
Because they are so territorial, feral cats must be trained to change their food source. A minimum of 4 weeks is the recommended amount of time for this process. They must be confined in the new territory during this period, whether it's an enclosure in a barn, cages in a garage, or the like. If not confined, they are likely to run away, looking for their former food source and most likely perish trying to get back to their old stomping grounds.
Choose a quiet spot and create nearby hiding places where the cats can go after being released, like bales of hay or cardboard boxes. It's best to relocate in warmer temperatures if cats are held in cages. If the relocation must be done in colder weather, be sure the cats have adequate winter shelter. Styrofoam coolers stuffed with straw can be used as shelters in cages.
Where do the cats come from?
Pets Alive works with many different shelters and rescue groups throughout the Hudson Valley, and there are always working cats looking for placement. Some come from hoarding situations, some have been brought to shelters with no return address.