Network Partners & Programs
The Orange County Chamber of Commerce leads the way in creating and supporting an environment in which local business can succeed and thrive. With nearly 1,200 members, the Orange County Chamber is the leading supporter of business in the Hudson Valley region. Legislative advocacy, pro-active referrals, extensive member services, networking opportunities, seminars, special events and more make the Orange County Chamber one of the best business investments in the Hudson Valley. Free business counseling, mentorship programs, and affordable health insurance are also available through the Orange County Chamber of Commerce.
Rotary is a global network of 1.4 million neighbors, friends, leaders, and problem-solvers who see a world where people unite and take action to create lasting change – across the globe, in our communities, and in ourselves.
Solving real problems takes real commitment and vision. For more than 110 years, Rotary's people of action have used their passion, energy, and intelligence to take action on sustainable projects. From literacy and peace to water and health, we are always working to better our world, and we stay committed to the end.
Pets Alive is a corporate member. The rotary, meets every Tuesday from 7:30-8:30 am at the Wallkill Golf Club on Sands Road in the town of Wallkill, NY. All are invited to join in!
The New York State Animal Protection Federation (APF) is the voice of animal shelters, humane societies and animal welfare organizations. Through its advocacy work, the Federation advocates for legislation that positively impacts animals in New York State. This includes the NYS Companion Animal Capital Fund grant program, which awards animal shelters in New York State funding to renovate or build new facilities. Pets Alive is a recipient of a $500,000 grant towards our new kennel building.
Best Friends, a 501(c)(3) nonprofit organization, operates the nation's largest sanctuary for homeless animals; provides adoption, spay/neuter, and educational programs. The Best Friends Network is comprised of thousands of public and private shelters, rescue groups, spay/neuter organizations and other animal welfare organizations in all 50 states. They are a coalition committed to saving the lives of dogs and cats through collaboration, information-sharing and implementation of proven lifesaving strategies. Our partners like Pets Alive, support each other and inspire their own communities to increase lifesaving across the country.
To view the Best Friends Network Dashboard, click the button below. There, you can select your state to see the stats related to no-kill efforts.
Doobert.com which is an online software platform custom-built for animal rescuers. It's like a combination of Match.com specifically for animal shelters and rescues to find new partners, and then a volunteer Uber for getting the animals where they need to go. The organization's focus is bringing animal shelter and rescue organizations together into a common platform to collaborate, share information, transfer animals, and work toward balancing the supply and demand. They continue to innovate to provide more ways to help transport animals where they need to go. Since its launch in May, 2014, Doobert has grown to support over 27,000+ volunteers and 1,200+ organizations across the United States and Canada.
Established in 2012, Shelter Animals Count is a centralized, standardized database for animal shelter statistics is critical for the animal welfare movement. Shelter Animals Count created The National Database to get a holistic overview of the animal welfare landscape, while at the same time give animal organizations the information they need to streamline and pivot operations according to the needs of their community. By collecting consistent shelter data and by collaborating with other shelters, our ability to save animals' lives can be dramatically improved. Pets Alive reports monthly data to the database.
Shelter Animals Count is a 501(c)(3) organization funded through grants, sponsorships and donations.
The Equine Welfare Data Collective is a group of agencies working together to collect national data on at-risk equines and those in transition from nonprofit organizations that take custody of at-risk equines and/or provide other services related to improving equine welfare such as assistance with veterinary care, euthanasia, rehoming, and behavioral needs as well as other "safety net" services including but not limited to food banks and gelding clinics.
Funders and industry professionals identified a need for accurate and credible data, we see it as our responsibility to understand the issues and provide needed insight. The group collects and analyzes data and reports on baseline trends such as capacity, current population descriptions, intakes, and outcomes.
Candid, formerly Guidestar, gets you the information you need to do good. Every year, millions of nonprofits spend trillions of dollars around the world. Candid finds out where that money comes from, where it goes, and why it matters. Through research, collaboration, and training, Candid connects people who want to change the world to the resources they need to do it. Candid's data tools on nonprofits, foundations, and grants are the most comprehensive in the world. Foundation Center and GuideStar joined forces to become Candid, a 501c3 nonprofit organization.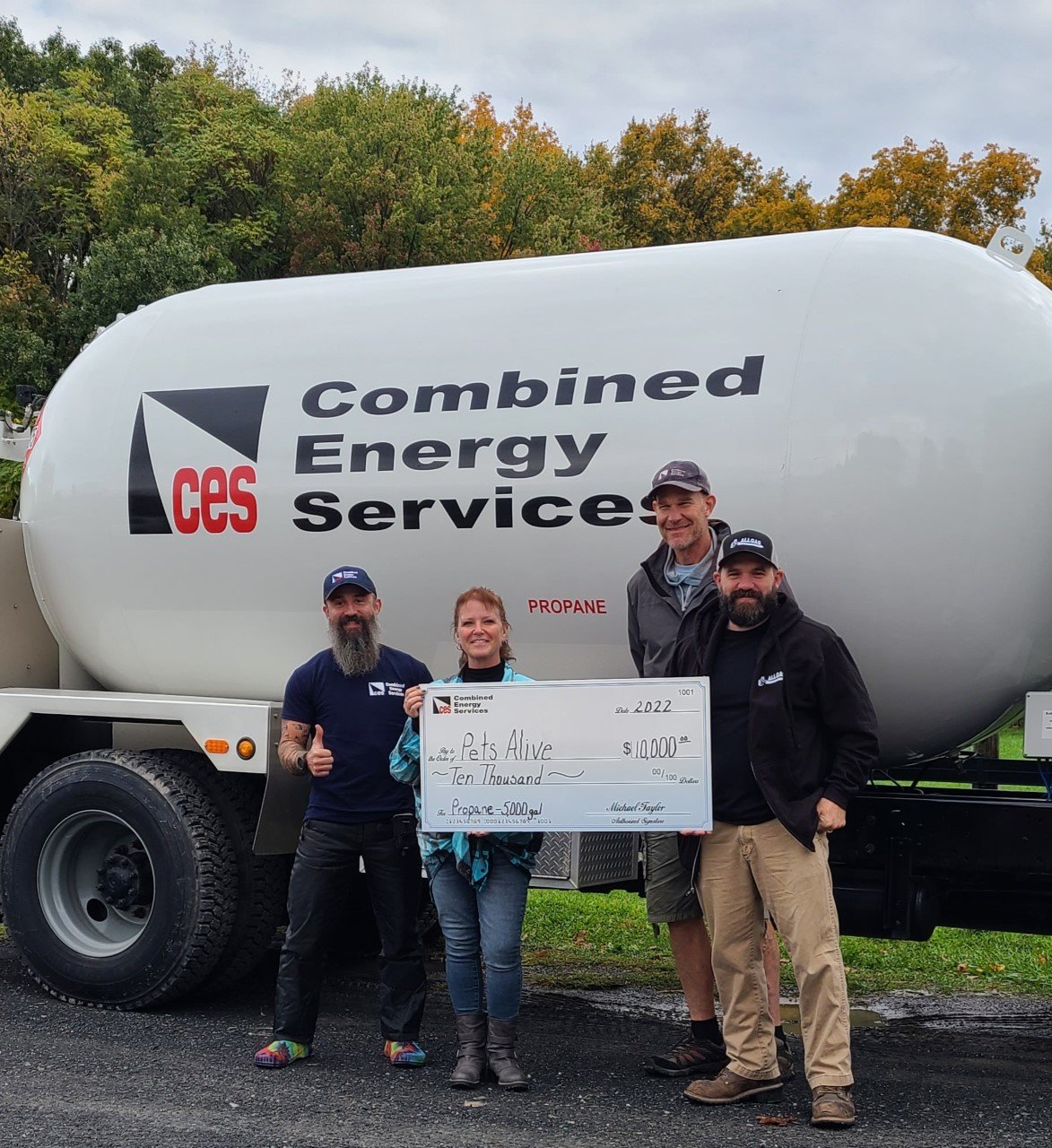 We're so grateful to our friends at Combined Energy Services for donating $10,000 of propane to Pets Alive in 2022! Combined Energy Services has been supporting Pets Alive since 2020.
Thank you, Combined Energy Services, for believing in our mission and helping to make our work possible!