$50,000 MATCHING PLEDGE!

Double your impact!
We have garnered a $50,000 matching pledge and you can double your impact to help the animals at Pets Alive! We are participating in the Saving Pets Challenge, a fundraising campaign sponsored by Michelson Found Animals, for animal rescue organizations across the country, focused on keeping pets out of shelters!
Our goal? Raise $100,000 to install heated floors in our upcoming new dog kennel building! For every dollar you donate, your gift will be DOUBLED up to $50,000 thanks to a generous donor!
Heated floors will be in every dog run and other parts of the new building. No longer will the dogs have to walk or lay on cold concrete in the winter months (some dogs prefer to lay on the floor instead of their bed).  Warm floors make for many happy paws! At the time of this writing, we have 3 dog runs funded for heated floors – but 48 to g0. Your help is needed!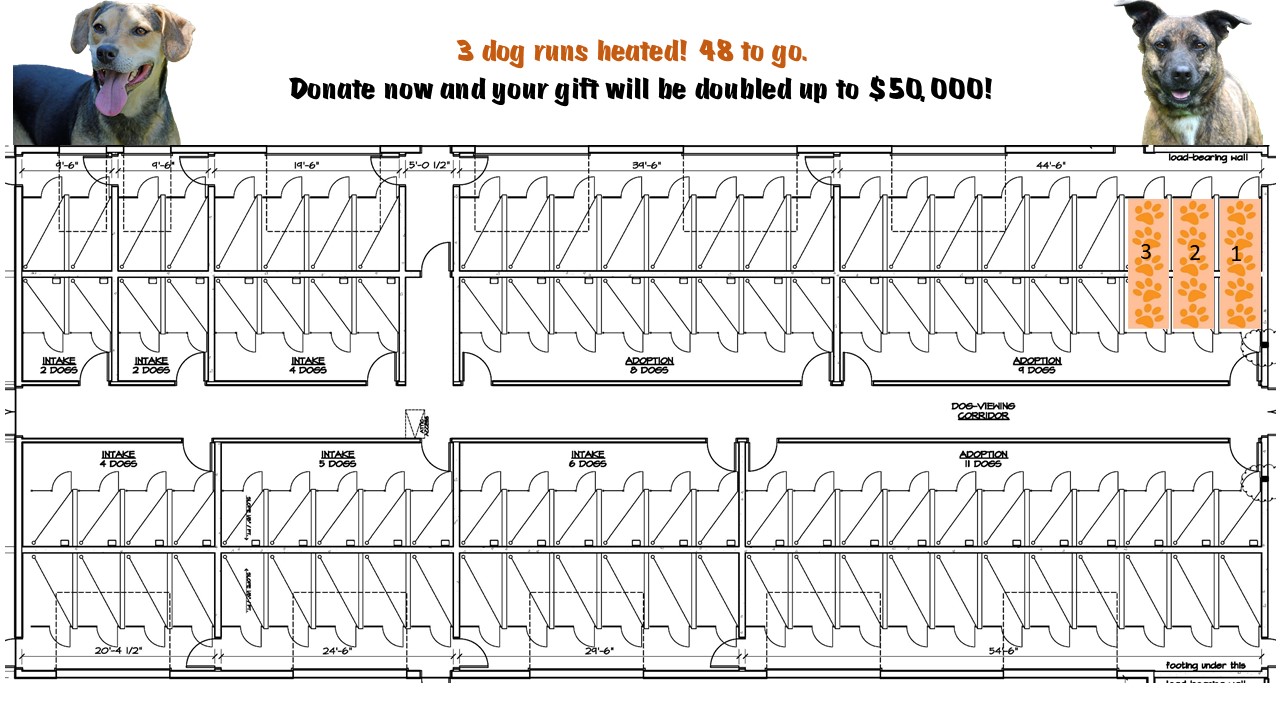 Our Challenge page provides details of the progress we've made on getting ready to construct the new dog kennel building.
There are numerous ways you can help. The Challenge runs through September 30:

Donate now and have your gift DOUBLED!  PLUS this week, the sponsor has a bonus prize – the four rescue groups with the most "unique" donors from Sept. 8 at noon ET through Sept. 15 at noon will win $1,500! Your gift during that timeframe will help us!
Set up your own Challenge Fundraiser to help us reach our goal. Simply click on "Fundraise" next to the donate button on our Challenge page, and set up your fundraiser.
Share the Challenge on your social channels.
DONATE now and double your impact – and help us reach our goal.

Additional information about the Challenge:
The Challenge sponsor has weekly bonus prizes in the form of grants for the top fundraisers that week. In order for us to qualify for these prizes, you must make an online donation via our Challenge website. You can see the Challenge Leaderboard here.
This week, the bonus prize is $1,500 to each of 4 top groups that have the most unique donors. The bonus runs from Sept. 8 at noon ET through Sept. 15 at noon.
Prefer to donate by check? Mail a check to us at Pets Alive, 363 Derby Road, Middletown, NY 10940 so it reaches us by September 30. Please write "SPC" in the note section of your check. Your check donation will qualify for the match and we'll enter it on our Challenge fundraising progress bar.
THANK YOU for your help in making the living conditions for the animals the best!