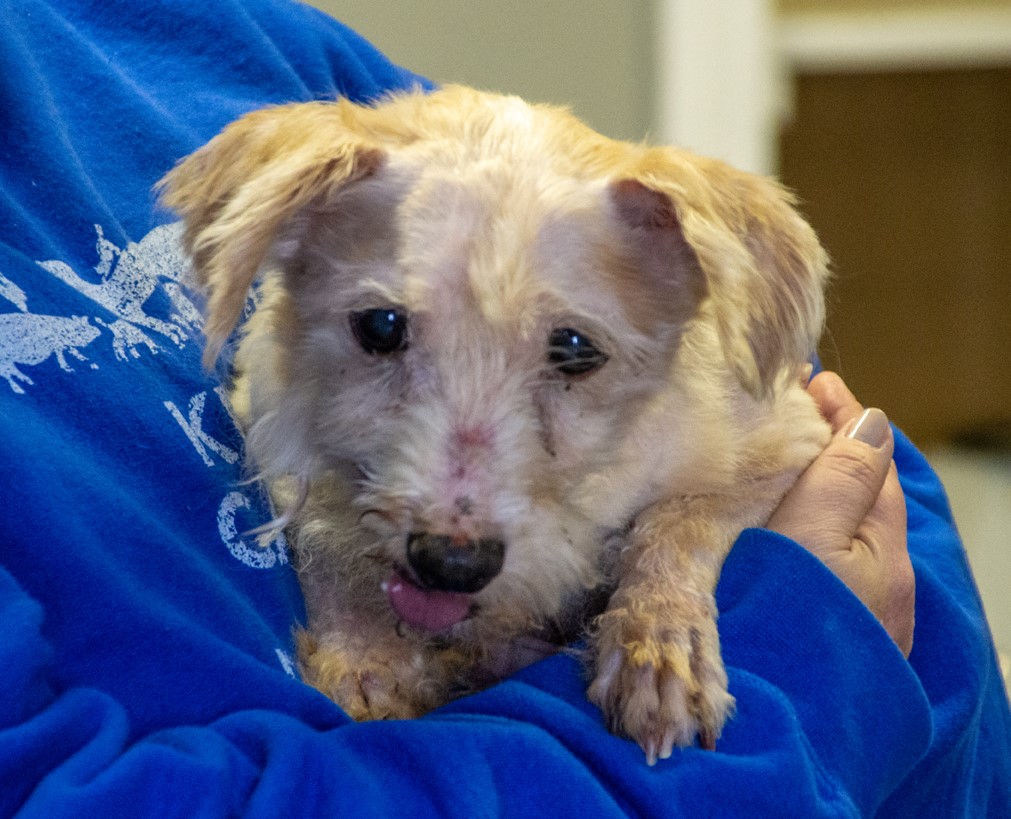 Jaime, a 13-year-old Maltese/Dachshund mix, just came to Pets Alive from the Animal Care Centers of New York City (ACC).
Sadly, his owner was found deceased. The New York Police Department (NYPD) brought Jaime to the shelter as he had nowhere else to go.
Jaime is in desperate need of medical treatment. He is lame with paralysis in his hind legs, he has severe dental disease, a heart murmur, and his fur was severely matted. Before leaving ACC, the team groomed him, and is no longer in pain from matting pulling at his skin. ACC then provided transportation and brought Jaime to Pets Alive.
Jaime will be seen by our veterinarian today. Jaime will most likely undergo a CT scan to determine if there is compression of his spine. He will also be scheduled for a dental; his teeth and gums are in terrible shape and will require extensive dental care. We will check to see if he has a bladder infection; while he urinates, there is a concern that he's not fully emptying his bladder.
Lastly, our veterinarian will schedule an appointment with a neurologist to assess the lameness in Jaime's back legs to determine if anything can be done, like physical therapy to improve his muscle strength.
In the meantime, he is in foster care with one of our volunteers.
Even though he is in need of so much medical attention, he's a friendly little fellow who wants some attention. He loves, loves, loves his toys! He likes to throw them in the air, scooting around the room after them – and then he wrestles with them in a very playful way!
He's been through a lot, and now he's safe at Pets Alive and will get the medical care he needs. Check out Jaime's video as he scoots around our medical room at Pets Alive. (Please note the sound is turned off in the video due to background noise.)
We are proud to be part of #GivingTuesday on November 30, an international movement for generosity.
Help us make miracles happen by donating to our Medical Fund on this #GivingTuesday to help Jamie and the other animals at Pets Alive. No donation is too small.

Prefer to send us a check? Mail it to Pets Alive, 363 Derby Road, Middletown, NY 10940, and write "Giving Tuesday" on the check and we'll apply it to our #GivingTuesday Campaign.

Thank you for your help on this #GivingTuesday!