When:
August 6, 2022 @ 6:00 pm – 9:00 pm
2022-08-06T18:00:00-04:00
2022-08-06T21:00:00-04:00
Where:
Pet CPR and First Aid Certification Class and Fundraiser for Pets Alive
Pets Alive
363 Derby Rd., Middletown
NY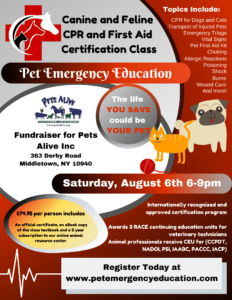 Learn to save the life of a pet. Our program is based on the industry standard method of animal CPR. This class is designed to teach the participant how to administer emergency CPR and first aid to an animal until veterinary care is ascertained.
.
*This class will certify the participant in Canine and Feline CPR and First Aid*.
.
We strongly encourage all participants to bring their own stuffed animal to practice skills on during the class (optional).
The skills and topics covered in this class include:
Safety techniques when working with sick and/or injured animals
How to perform emergency triage and assess if an animal is experiencing a life threatening medical emergency
How to restrain and properly transport sick and/or injured animals
How to provide emergency first aid to dogs and cats en-route to veterinary care
How to take vital signs (temperature, pulse, respiration, CRT) and determine normal vs abnormal readings
Learn about the importance of the pet first aid kit and how to use the materials in it during an emergency
How to manage and provide first aid for many common medical emergencies such as severe wounds, poisoning, burns, choking and more
How to perform the most current industry standard method of Cardiopulmonary Resuscitation on dogs and cats
Participants will receive a PetCPR+ Certification valid for 2 years
.
Cost and Materials: $74.95 Registration fee Includes: An official certificate, a 2-year subscription to our online Animal Emergency Resource Center, your choice of the 88 page full color class manual either as an Ebook (View Only/Cannot be Printed) or a printed copy (additional $24.95), businesses, organizations and groups may request a professional, frame-able certificate and window decal, to hang in their place of business to promote that their staff/members are certified.
.
*Approved to award 3 RACE CEU to veterinary professionals, 3.5 CEU to CCPDT dog trainers, 3 CEU to IAABC, 3 CEU to NADOI, 3 CEU to PACCC and 3 CEU to members of Pet Sitters International*
.