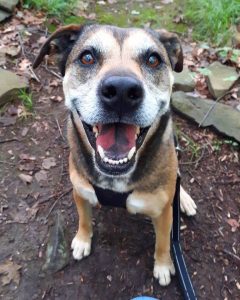 Let me introduce myself. My name is Fancy Fajita, but all my friends here at Pets Alive call me Fancy! They always tell me what a good girl I am. I know how to sit, take treats gently and walk like a lady, and my friends say I have the best smile and biggest heart.  My smile was even bigger when Ms. Becky told me I was the lucky doggie who got to write to you with my three Christmas wishes!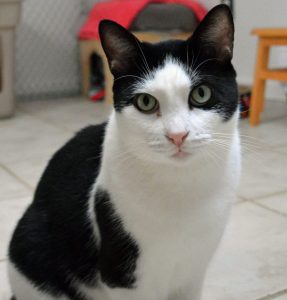 I've thought long and hard, as I don't want to waste a single wish, so my first Christmas wish is for my friend Cow. Just like me, Cow can be shy and unsure when she is around new people.  But don't blame her; she came from a really bad place five years ago. You see, she came from a hoarder's house where she didn't get any attention, it wasn't clean, and a lot of times she went hungry. Please, Santa, can you send a family to take Cow home to cherish and love her just the way she is?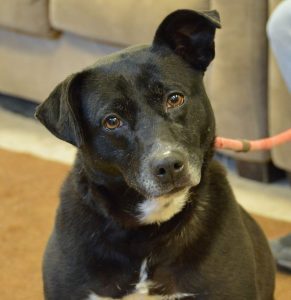 My second Christmas wish is for my friend Ginger. Ginger had a loving and doting father for the first five years of her life.  She and her dad did everything together — long walks, movie nights, long car rides, cuddles on the couch — that is until her dad passed away suddenly and unexpectedly. I've never had a dad, but the way Ginger talks about hers, they sound pretty awesome! You see, when her dad passed away, she was brought back to Pets Alive. The staff saw right away that Ginger's heart was broken.  Ginger has told me for so long she was afraid to open up her heart again; she never wanted to feel that pain and loneliness. Over the years, the staff and amazing volunteers here at Pets Alive have broken down the wall Ginger built to protect her heart. Santa, Ginger is so ready for a new dad. Can you please send her one?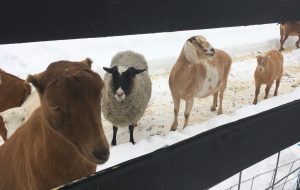 Santa, my third and last wish is for Ms. Becky and Pets Alive. You see, Ms. Becky doesn't worry about herself. She worries about me, Cow, Ginger and all of us here at Pets Alive, from Viper and Challenger, two of the sheep, to all the goats and others that came in from a cruelty case, to the baby kittens that need round-the-clock care, to the stray dog that just came in scared and confused. She worries about making sure we are all warm and cozy. She worries about us all having full bellies and lots of yummy treats. She worries if one of us gets sick and the vet bills pile up too high. She knows Pets Alive is our home and wants us to be comfortable and happy until our forever families come for us. So please, Santa, please send Ms. Becky monthly sponsors so she maybe won't worry so much.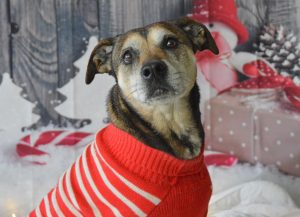 Thank you, Santa. I truly believe and I know you will work your Christmas magic.
Love, Fancy


Prefer to send a check? Mail it to us at Pets Alive, 363 Derby Road, Middletown, NY 10940. Please write "Dear Santa" on the check.
P.S. Thank you so much for helping to make my wishes come true!