Written by: Cindy O'Brien, Barn Manager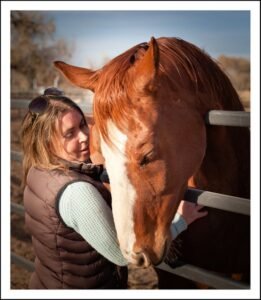 In the rescue world, you never know when you will get a call that will change an animal's world forever. In Sept 2015, Pet's Alive received a call from a concerned citizen, about an emaciated horse and reported that there was prior, 2 horses in the field. Orange County Sheriff's Dept was notified immediately and they asked Pet's Alive's Farm Manager, Cindy O'Brien, for assistance in evaluating the horse. Upon arrival it was clear this mare was extremely malnourished- all skin and bones. Her hip bones, ribs and spine were clearly visible. She had no muscle mass. Her feet were overgrown and all chipped up. Her mane and tail were full of burrs. She had fungus from head to toe and large patches of hair loss. The Investigator proceeded to look around the property and what he found was horrifying. In a stall was the body of a horse that was clearly there for some time. It was very apparent that the existing horse needed to get out of the property that day, and Cindy and the Investigator were not leaving until she was safe.
It takes a village to save a life. Calls were made to other rescues to get transportation. Our vet was on call and ready to examine her as soon as she came in. Staff and volunteers offered assistance with anything needed. Concerned citizens gave donations to help with her care. Once safely at Pet's Alive, the work of caring for all her needs began. We named the mare, Birdie.
Birdie's life changed that day. If it weren't for our ability to call to action, she would have had a very different fate. Birdie gained over 250 lbs at Pets Alive. It took months to clear up the fungus and her feet were in such bad shape that it took almost a year with constant care to get them in good shape. This neglected, malnourished girl is now the stunning horse that greets our visitors.
Just caring for medical needs, rehabilitation and love isn't the only thing we do at Pet's Alive. We go through the entire court process with them. As a holding facility for Law Enforcement we document and work with District Attorneys until, hopefully, they are signed into our care permanently. Birdie's case lasted over 18 months. In that time frame, the Defendant owes us $12,444 for her care. We won our case and also won the restitution. However, even on a case that we win, you never know what will happen. As the Defendant was leaving the court room, another Detective grabbed him. He was arrested. The Detective told us later that they were trying to track him down for some time. They were able to finally get him because he was in court. Birdie was saved by Law Enforcement and also paid back the favor!
Birdie is officially safe in our care and ready to find her own furever, loving home. Unfortunately we may not see the restitution owed for her care, but we are thrilled that we helped save a life! Everything we do is for the love of the animals and we want to continue to give them the care they need, and to be able to help those, like Birdie, that are so deserving of a great life. You can help by donating, volunteering, and getting involved! You can help save a life!