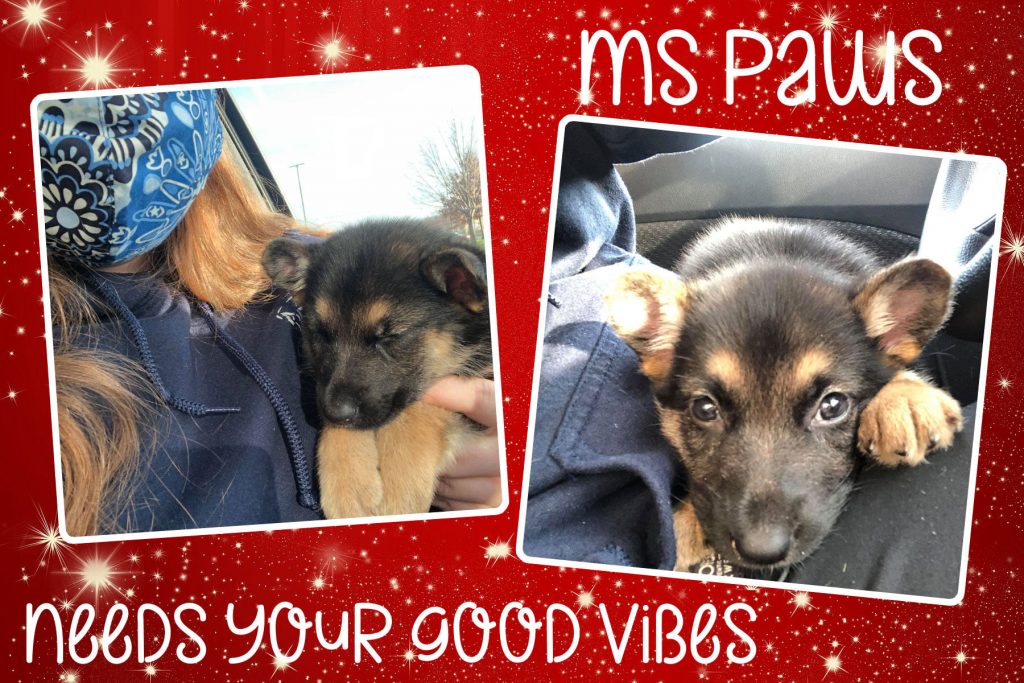 Ms Paws, the critically ill puppy we took in this past week, needs your good thoughts and vibes.
The veterinarians at Cornell University Companion Animal Hospital have been unable to place a traditional feeding tube even with a lighted scope due to the stricture's tightness.
Ms Paws has been receiving amino acid therapy and handling it well, along with IV hydration with dextrose.
The anesthesiology department feels she is stable enough for general anesthesia, so the surgeons will be operating today to place a PEG Tube which will allow her to receive the nutrients she needs to grow bigger and stronger for the PRAA surgery. To read more about Ms Paws' journey, please go here.
Please keep this little fighter in your thoughts today and send lots of positive vibes while we await word that she has made it through surgery. To donate towards her mounting medical costs:

Prefer to send a check? Mail it to us at Pets Alive, 363 Derby Road, Middletown, NY 10940. Please write "Ms Paws" on the check.
Thank you so much for your help! We are truly grateful for your support.
**************************************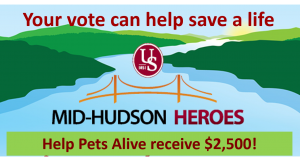 On another topic, the animals really need your help. Today is the last day to vote in the Mid-Hudson Heroes Charitable Giving Campaign that we've been participating in. As of the time of this writing, we have slipped back to 2nd place – and the campaign ends tonight at 11:59pm ET. You can impact that by simply casting your final vote today! $2,500 is on the line for the animals.
The top "vote-getter" in each category will receive a $2,500 donation from the sponsor. Your vote is critical to getting us back into 1st place and over the finish line.
This funding will go directly to helping the animals this winter.
To help, cast your final vote today! If you voted yesterday, you have to wait 24 hours to vote again. Otherwise vote now:
Go to: https://a.pgtb.me/fDD5q6
Scroll to categories and select: Animal Welfare
Scroll to Pets Alive
Click on the Vote icon
Use the "Share" button to ask your friends and family to join in via social channels or contact them directly via text for immediate impact!
THANK YOU so much for your dedication to helping us get this donation!
Note: You must have a Facebook account to participate.