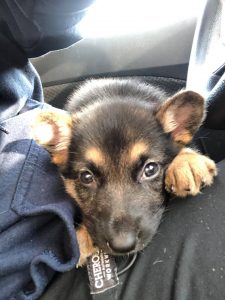 She looks like a cuddly young pup on the outside, but inside, she's hurting.
Ms Paws is a 3-pound German Shepherd puppy fighting for her life who came to use the other day. You can read her story here. We continue to thank you for your help and wanted to update you on her progress.
It is a matter of life and death that Ms Paws receives nutrients to stabilize her condition in order to have the life-saving surgery she needs. The only way for her to get those life-saving nutrients at this time is through a feeding tube.
The tube that was originally placed became displaced when she started to regurgitate. The blood vessels are closing off her esophagus and trachea, so much so that it is making it impossible to get the feeding tube back in without advanced medical equipment.
Therefore, today we rushed Ms Paws to the Cornell University Companion Animal Hospital in Ithaca, NY.
There, with the assistance of a lighted endoscope, they will attempt to place a traditional feeding tube. Tomorrow, the anesthesiology department will evaluate her to see if she is stable enough to undergo anesthesia to have a Percutaneous Endoscopic Gastrostomy (PEG) tube placed. A PEG tube is designed for pets unable to swallow temporarily or permanently, providing them with a source of long-term nutrition.
It is a matter of life and death that we find a way to get nutrients into her tiny body. Only with these nutrients will she become stable and strong enough to undergo surgery to correct her PRAA, a type of vascular ring anomaly in dogs. (For more information about this condition, check out this article.)
This tiny girl is a fighter and together, we must fight for her. We are doing all we can for her, but we need your help! The estimate for this procedure is $3,000 – or more – in addition to what we've already spent at our local veterinarian. You can make a huge impact today by donating to Ms Paws' fight for life. No gift is too small. Already donated to help her? Thank you so very much!
Prefer to send a check? Mail it to us at Pets Alive, 363 Derby Road, Middletown, NY 10940. Please write "Ms Paws" on the check.
Check out Ms Paws' arrival video at Cornell!
Thank you for helping Ms Paws. We'll keep you updated on her condition.