Because of them, we can't close, we can't stop
As the world around us seems to be turning upside down and our lives are disrupted in ways none of us could ever have imagined, the amazing Pets Alive staff is doing what they do best – standing strong and not stopping because lives depend on them.
Just this week, staff spotted two individuals by our dumpsters taking stuff out of their car – a bag of cat food, a bag of litter and two innocent cats in a cat carrier to be left behind. The cats are safe at Pets Alive and are being cared for. They will go up for adoption, business as usual – but business as usual is not the world we are in at this moment in time.
We have temporarily closed to visitors and volunteers
To our volunteers and visitors who work on the front lines in health care, police officers, firemen and women, grocery stores, warehouses, truck drivers and others that must keep going, we want to say THANK YOU. 
We love our volunteers and visitors. You are the lifeblood of our organization, but we now must take these actions.
We will not reopen to volunteers for at least another 10 days. We need to protect our staff and our volunteers. If our staff becomes sick, we will be calling on our volunteer force, like never before, to help with every part of the daily feeding and caring of our animals. Think of our volunteers as our "relief pitchers" to be called in during the bottom of the ninth inning to bring us all home!

We are also closed to all casual visitors until further notice.

 

New Volunteer Orientation has been suspended for at least the next few weeks.
We are still doing adoptions – but by appointment only
If you have been thinking about a new addition to your family,

 we really encourage you to consider adopting at this time

. What better time to adopt a new best friend than when you are working from home and can help them acclimate to their new home and family!

You can view all our animals on our 

website

. We have over 200 wonderful animals looking for a home.

We also will be highlighting our adoptable dogs, cats, sheep, and horses on 

Facebook

, 

Instagram

, and 

Twitter

.

Have a question about an animal you see? Please email us at 

adoptions@petsalive.org

 and our adoption team will gladly respond.

See someone you would like to meet? Please fill out our adoption application 

HERE

and wait to hear from our adoption team about coming in. We are also working on setting up Facetime and Skype meetings with potential adopters and animals. Chico and Mia are just a few of the animals available for adoption!

Here's some information for pet owners
To all of you, we would not be here without you and your continued support which is essential to saving lives now more so than ever. This global pandemic will impact all of us, but we can only continue to help the innocent, voiceless animals with your help and support. We are grateful to have you all in our corner, ready to help us continue to fulfill our mission of helping animals in need.
Becky Tegze
Executive Director
Pets Alive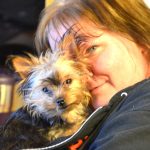 You can also mail us a check at Pets Alive, 363 Derby Road, Middletown, NY 10940.