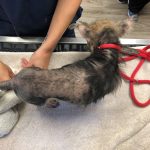 Autumn was brought to us just days ago – her little body had almost no fur, she had fleas, she was emaciated, dehydrated, had overgrown nails, and had a large mass on her belly. With your help, we were able to start immediate medical treatment to help Autumn begin the healing process.
She is now is feeling much better after her overnight stay at Catskill Veterinary Services, PLLC. While in the hospital, she received a medicated spa treatment to help her skin conditions.
She also underwent testing, which shows she has both a bacterial and yeast infection of the skin as well as flea dermatitis. She is now back at Pets Alive and is on a multitude of medications to treat these conditions.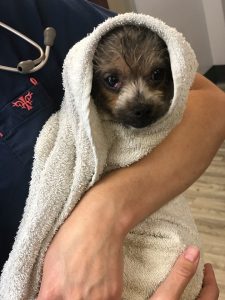 As part of her treatment, she will also be getting medicated baths every other day for at least the next few weeks.
The good news is the mass on Autumn's belly is a hernia that can be repaired when she is healthy enough to be spayed.
Please consider making a donation to help with Autumn's continued care by donating to our emergency medical fund. Autumn will be available for adoption once she is better. For inquiries, email us at adoptions@petsalive.org.
If you already donated to help with Autumn's medical care, thank you!