Many experts will agree that the first part of recovery is admitting you have a problem.  A few days ago Pets Alive received a call just like that — a call for help! A local woman admitting she had a problem. We knew we couldn't turn our backs on her or the cats that were in desperate need of medical attention. Even though kitten season is here, our cattery is full, and our medical expenses are already close to $10,000 a month, our team prepared to help 25 cats and kittens.
With the help of both the City of Middletown and the Town of Wallkill's Animal Control Officers, a team from Pets Alive rescued 19 adult cats and 6 kittens who are now receiving the care and medical attention they so desperately need.
Three of the cats in critical condition were immediately rushed to our vet in an effort to save them. Sadly, two of the felines were too far gone with tumors and kidney disease for us to save. The third, a senior tabby boy, who we have named Hollywood, has been hospitalized.  He is severely dehydrated with an extremely elevated white blood count and protein levels. With the help of IV fluids and antibiotics, we are hopeful we can pull Hollywood through but he has a long road ahead of him. The good news is our vets report he is eating small amounts of special anorexia-diet prescription food, but for the time being he must remain hospitalized, as he is still in critical condition. This quality care all costs a lot of money.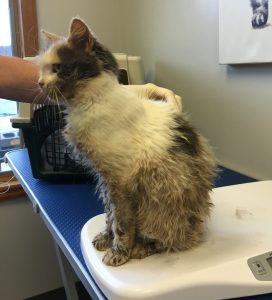 Not only are we now facing an ever-growing vet bill for Hollywood's hospitalization, but all the cats and kittens we have taken in need to be: vaccinated, dewormed, treated for fleas, snap-tested, microchipped and given antibiotics for upper respiratory infections. Those not altered will need to be spayed/neutered and many are suffering from horrible dental disease.  All of this is going to cost thousands!
We answered her plea for help. Will you answer ours?

Help us care for these cats in need and the many others at Pets Alive by donating to our Fund The Shelters Challenge sponsored by Michelson Found Animals. Sidewalk Angels Foundation has pledged up to $20,000 as a matching gift to help us raise money! All donations made in the Fund the Shelter's Challenge now through May 9 will be DOUBLED up to $20,000 and will be used to replenish our medical fund.
Prefer to send a donation check? Mail it to us at Pets Alive, 363 Derby Road, Middletown, NY 10940. Please write "Challenge" on the check. Check donations will be doubled and get the matching gift, however they are not eligible towards the sponsor prizes. Only online donations count towards the sponsor prizes.
And thank you for your everlasting support so we can help these cats and so many other animals.