Written by: Joyce Washnik, Pets Alive Volunteer
Joey came to Pets Alive in 2015, a victim of severe neglect. Sadly, the 8-month-old horse had been living on an abandoned property by himself. Scared and malnourished, Joey was rescued and brought to Pets Alive to be rehabilitated.
With patience and persistence, the staff helped the young horse overcome his fear of humans and start to trust. It helped that Joey was naturally curious and very willing to learn.
Now a healthy and happy boy, Joey is headed for 3-4 months of intense training. Pets Alive has teamed up with a Middletown-based professional trainer, who will work to get Joey ready to be started under saddle. Everyone is optimistic that our boy will thrive, as he handles well in halter and enjoys experiencing new things.
No one knows that better than Barbara Whyte, a local trainer who worked with Joey last summer. She gives high praise to the Standardbred gelding, who she describes as sweet-natured and smart: "He will benefit from a professional training program. He is still young, so he can be a little opinionated at times, but with a professional program, he will excel. He does want to figure it out but he's just confused because he's never had to do any of this."
During her time with Joey, Barbara would visit him 3-4 times a week, gaining his trust and focusing on ground work. Now, she adds, he is ready for the next stage of his training. "He has not had anybody up on his back yet. That is the goal: to have him able to be ridden." She adds that Joey's natural curiosity will help, as he learns to trust his new trainer and feel safe around him.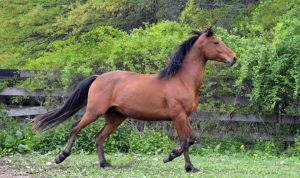 Even after he completes his training, Joey is going to be a work in progress, known as "green broke" in the horse world. "But at that point he will be far more adoptable than he is now," says Barbara.
Because of that, he would do best being adopted by an experienced horse person. "He'll make a connection with somebody and be able to do what they want. I think he could really go in any direction," adds Barbara, from jumping to dressage.
The plan is for Joey to reside off-site at the professional facility, working with his new trainer most days and getting accustomed to his surroundings. The intense program will be expensive, which is where you, our generous supporters, come in. Estimates for training and board are approximately $4,000-$5,000.
Can we count on you to help cover Joey's "tuition" so our beautiful Bay-colored boy is ready for his final adventure: a forever home?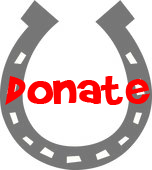 Alternatively, you can mail us a donation check to Pets Alive, 363 Derby Road, Middletown, NY 10940 and write "Joey" on the check or call us at 845-386-9738 to call in a credit or debit card donation.
Thank you, in advance, for helping Joey thrive!