An update as of October 13, 2018
Earlier today, Gracie said goodbye and crossed the Rainbow Bridge. You can read about what happened on our blog posting here. Thank you so very much for your support. She will be missed by many.
The original story posted on October 11, 2018

Just days ago, young Gracie was enjoying her favorite things – taking hikes with her favorite volunteers and dashing around the play yard. But now, suddenly, she is fighting for her life and will undergo emergency surgery this evening with hopes of saving her life.
Last Friday, she showed signs of inactivity, which was unusual for happy-go-lucky Gracie. By Saturday, she lacked her appetite and we immediately took her to our veterinarian. Her bloodwork showed that she has lyme disease and we started her on antibiotics. By Tuesday, she didn't show any improvement and her stomach was now slightly distended. She went back to our local veterinarian for more aggressive treatment, including x-rays, ultrasounds and testing of the fluid found in her stomach.
Today, that fluid test sample came back showing a massive bacterial infection. We immediately rushed her to Oradell Animal Hospital in Paramus, NJ, a 24×7 emergency / specialty hospital. Their conclusion is that she needs emergency exploratory surgery NOW. While surgery is high risk, without quickly determining the source of her distress, her condition will rapidly worsen and her life is at risk. She now awaits quietly with a few members of our staff as the medical team prepares for surgery this evening.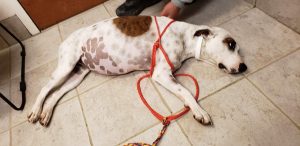 The estimate for this surgery is between $7,500-$12,000, depending on what they find. Gracie is only 2 1/2 years old. She came to Pets Alive from a shelter in Georgia when she was just a year old. She deserves a second chance, a chance to run around our play yard once again and go on long hikes.
If there ever was a time an animal at Pets Alive needed you, it's now. Won't you donate to Gracie's emergency medical fund? Even a few dollars will go a long way to help Gracie.
You are always there for the animals and we thank you from the bottom of our heart.
Sincerely,
Becky Tegze
Executive Director
ps…prefer to mail us a check? You can do so by mailing it to: Pets Alive, 363 Derby Road, Middletown, NY 10940.