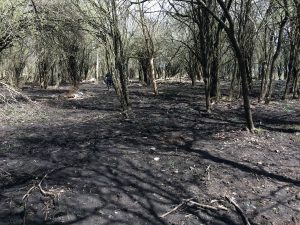 An "island" in the middle of a black dirt farm, with no grass for grazing, no water to drink except for what fell from the sky, some trees for shade, but electric fencing was holding them prisoners just inches from life-saving grass and a way to escape their living hell.
A living hell is the only way to describe what our Pets Alive Team walked into yesterday, after receiving an urgent phone call from Hudson Valley Humane Law that our help was needed immediately.  One horse was dead. One was still alive but emaciated in Goshen, NY.
Officers from the Goshen Police Department and Hudson Valley Humane Law met us in the middle of an onion field and walked us through the black dirt mud to the "island," where a beautiful young horse waited for us. He must have sensed salvation was near, as this gentle, muddy boy greeted us eagerly, ready to escape his living hell.
Please welcome Cailan – Warrior of Life to Pets Alive. His ribs are showing, his hip bones are sticking out, and he is hundreds of pounds underweight, but his better life starts today with your help!

Our Warrior of Life needs bloodwork, farrier care, dental work, x-rays, vaccines, deworming, months of rehab care, a slow refeed regimen that will take months. All this costs money.  Cailan needs your support today!
Sadly, we have seen abuse before and, sadly, we will see it again. What makes this case that much harder for us to handle is that on their "island," there is evidence that humans were there watching them starve and suffer. The location is littered with broken glass, empty soda bottles, car parts, broken chairs, a makeshift shed, and what one might call a tree stand. How does someone stand by and watch the suffering?
To Cailan's beautiful mother: Our hearts are broken, and we shed tears for your life gone too soon. We are sorry we were too late to save you; we promise to cherish and heal your baby boy — he is in good hands now.
With your support today, we will fulfill the promise we made to Cailan's mother as we stood over her yesterday, shedding tears for the pain and suffering she endured.
Thank you for making a difference in the life of this precious boy.
Becky Tegze
Executive Director
Pets Alive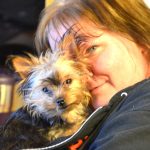 ps…prefer to send a donation check? Mail us a check to: Pets Alive, 363 Derby Road, Middletown, NY 10940 and write "Cailan" on the check.