Pets Alive is a no-kill animal rescue, located in the foothills of the Catskill Mountains, about 1 1/2 hours from New York City. Our mission is to improve the lives of companion animals everywhere by any means possible, including rescue, adoption, advocacy, collaboration, intervention and education.
---

Huge Yard Sale!
Saturday, May 25, 9:00am-3:00pm
Location: 226 Maple Ave, Pine Bush, NY
Great deals and bargains! Every cent goes to helping the animals at Pets Alive! Want to donate items to the sale? We are taking yard sale donations through May 22 - email ryan.boniface@petsalive.org for drop off information.
---

Calling all volunteers!
Join us for our Volunteer Appreciation Day Picnic!
Sunday, June 2, 2019, 12:00-3:00pm
At Pets Alive, 363 Derby Road, Middletown, NY. Being held in the training tent. Pets Alive would like to take a day to celebrate our volunteers! We are having a picnic-style luncheon to thank all of our volunteers for all the work you do for the animals. This is a complementary luncheon but we do ask you to register so we have a headcount. Register HERE.
---

SAVE THE DATE for our 2019 Harvest of Hope, our largest event fundraiser of the year! Some of your favorites return like our spectacular raffle and silent auction, photo booth and music by Music Masters DJ Entertainment, our Sponsor-a-Pet – Giving Tree returns! And many other wonderful opportunities to sponsor this event from Ads in our evening program journal to event sponsorships. More information soon!
---

Paint Your Pet
Saturday, June 8. 2:00-6:00pm.
Location: Pets alive, 363 Derby Road, Middletown, NY (We'll be in the big tent)
Back by popular demand! All-inclusive painting lesson at Pets Alive. You supply the photo and a sketched canvas will be waiting for you at the event. You do not need to know how to paint! You must preregister for this event. Registration closes June 1 or when all spaces are filled.Don't get closed out - register HERE.
---
Send a Gift or Memorial Card
Looking for the perfect gift for the holidays? Make a donation to Pets Alive in someone's name and we'll send them a card that you can personalize. We currently have six cards (dogs, cats, a mouse, and a horse) to choose from, and six different occasions (Holiday, Birthday, Celebration, Sympathy, etc). Click here to see all our cards and send one today!
---
Pets Alive is proud to be a Partner for Pets! BISSELL and LostPetUSA.net have teamed up to help organizations like ours raise money, and now you can help too! When you purchase pet products on bissell.com and enter the code ADOPT at checkout, a portion of your purchase will be donated to our organization!
It's simple.
◾ Shop pet products on www.bissell.com
◾ Enter the code ADOPT at checkout
◾ Then select our organization listed as Pets Alive animal sanctuary!
Learn more at www.bissell.com/partnersforpets.

---
Pets Alive introduced the "Senior Canine Tooth Fairy Program in mid-2018, thanks to a recent grant award from The Grey Muzzle Organization! This grant award will be used to provide dental treatments to some of our senior dogs to promote good health and increase their chance at adoption. Stay tuned for updates as the program gets underway! The national nonprofit The Grey Muzzle Organization improves the lives of at-risk senior dogs by providing funding and resources to animal shelters, rescue organizations, sanctuaries, and other nonprofit groups nationwide. For details, please visit www.greymuzzle.org

UPCOMING EVENTS!
Click here to see our on-going events!
---
Join Our Emailing List
Sign up to receive our periodic email newsletter with information about animals and sanctuary happenings.
---
---
Buying something on Amazon? Go to this special Pets Alive link: AmazonSmile. Amazon makes a donation to us based on your purchase!
---

Taking a trip? Check out CD Trips, LLC for organized, hassle-free and FUN trips to baseball games, New York City day trips, overnight trips and more! AND Pets Alive benefits!
When you see a HEART on a trip page, YOU get to choose the charitable organization that benefits from your trip! Pets Alive is among the many charities that benefits. Just select Pets Alive from the "Select Your Benefit Organization" drop down menu at booking checkout. We will in turn receive a donation from CD Trips. A huge thank you to CD Trips for your generosity.
Check out their website and book your trip today!
---

Bienvenidos amigos de habla
hispana de Pets Alive
Tenemos horas abiertas de adopción siete días a la semana entre las 10 de la mañana y las 4 de la tarde. Si ya tienes un perro en casa, por favor tráigalo a nuestra santuario contigo, porque una introducción al nuevo perro es un requisito. Introducciones de perro toman lugar entre las 10 de la mañana y las 4 de la tarde. leer más
---

Donate a Car to Help Support Pets Alive!
---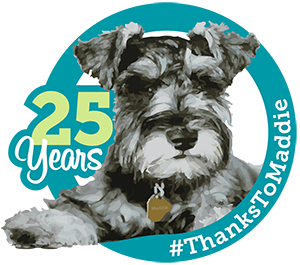 Congratulations to Maddie's Fund, who celebrates 25 years! Maddie's Fund® is a family foundation created in 1994 by Workday® co-founder Dave Duffield and his wife, Cheryl, who have endowed the Foundation with more than $300 million.

Since then, the Foundation has awarded more than $225.7 million in grants toward increased community lifesaving, shelter management leadership, shelter medicine education and foster care across the U.S. Pets Alive has benefited from several recent grants, thanks to Maddie's Fund.

The Duffields named Maddie's Fund after their Miniature Schnauzer Maddie, who always made them laugh and gave them much joy. Maddie was with Dave and Cheryl for ten years and continues to inspire them today. Maddie's Fund is the fulfillment of a promise to an inspirational dog, investing its resources to create a no-kill nation where every dog and cat is guaranteed a healthy home or habitat. #ThanksToMaddie.

Maddie's Fund is a 501c3 organization, EIN 94-3362163.